Open Bead Day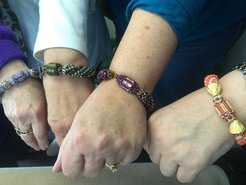 Monday, June 26, 1:00 - 8:00. Drop in anytime between these hours. Bring a project to work on and come sit with friends....

​
---
​Zentanglers Meet up.
Art Journal Girlz
Saturday, July 8, 10:00 - 2:00. The "Art Journal Girlz" meet at our store once a month (Second Saturday) to create mixed media masterpieces. This is open to anybody with an interest. It is free. Please call the store for more information or just come in and check out what they are doing.
​


​
Open Bead Day
Make and Take Tuesday with Annette
Make and Take with Annette
Tuesday, August 1, 2:00 - 6:00. Make and Take Beaded Bezel with Dangle with Annette.
Make and Take with Judy Hauffe
PMC with Barb Hodges
B and B Workshop
Monday, August 14, 1:00 - 8:00. B & B Workshop.
Make and Take Tuesday with Annette.
Tuesday, August 15, 2:00 - 6:00. Make and Take Czech Cab Bracelet with Annette. $8.00.

​
​

Loomatiks
Weekend with Mary Hettmansperger

Day 1 Alternative Surfaces

Students will learn a variety of unique surfaces using patinas, embossing, and colored pencils. Students will also incorporate found items into the jewelry, allowing the pieces to become narrative and personal. A variety of cold connections and weaving techniques will be used instead of soldering to connect and create the pieces. Students will use copper and brass sheet metal for accent and a variety of found objects to construct their pieces. Students are encouraged to bring their budding ideas, and small personal found objects to discover the endless options for assembling and connecting. The goal is to find unique designs and approaches and use personal expression to create the jewelry during the week. Students will have a vast number of new and alternative approaches to surface and construction.


$125.00 materials included.

All materials for class will be supplied – sharing tools will also be available during the class to help students from having to bring tooooo much J

Tools needed:
Hammer
Bench block or small anvil
Needlenose pliers
Bent nose pliers
Wire cutters

​Day 2

Unique ways to connect with wire

6 hour class

Using copper and silver sheeting, and wires, students will learn to connect and design using weaving, tying, and wire techniques. Unique patinas and applications will be used to create and design in unexpected and innovative ways.

$125.00 - materials included.

Tools needed for class:
Hammer
Bench block
Texturing hammers if desired
Needle nose pliers
Metal scissors or snips
Wire cutters


Materials in kit for class - supplied by instructor:
24 gauge copper sheeting
26 gauge silver sheeting
Findings and embellishments
All wires and cold connections
All patinas




Open Bead
Monday, August 28. 1:00 - 8:00. Drop in anytime between these hours. Bring a project to work on and come sit with friends....


​
---


​Looking Ahead:
August 19, 2017 Shelley Nybakke
September 16 & 17, 2017 Mary Hettmansperger
October 5, 6 and 7th 2017 Melody MacDuffee
October 27 2017 Kinga Nichols
December 2, 2017 Shelley Nybakke
July 6-8, 2018 Beki Haley
November 9 - 11, 2018 Kinga Nichols
​


If you want to sign up for a class at La Bead, Oh!, please come by the store or register by phone and pay with credit card. Some classes fill up quickly, and we limit most classes to 12 students. If you're interested in learning a new beading technique, come in today to sign up!

Unless stated, materials are not included in the class. Please bring them with you to class or come early enough to pick them out.

Cancellations must be made no less than 48 hours in advance

No refunds will be given after that, no exceptions.